Are we alone in the universe?
The short answer is no, of course not.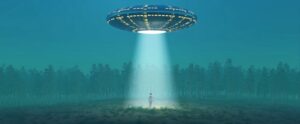 This question has been posed for centuries, if not since the beginning of our known existence. Each generation we get closer to real answers through our exploration of science and outer space. Some of us get closer in other ways.
Today, with the aid of Hubble, Kepler and other very powerful telescopes, we can map the visible universe and know that there are billions upon billions of stars, galaxies and unknown energies.  There are many potentially habitable planets that lay in the so-called "Goldilocks zone", making it mathematically impossible for us to be alone in this universe.  Some of us, due to our belief systems still haven't been able to grasp this FACT, but most of us have moved on to the next question.
On a daily basis, we are proving what we thought as absolute is more malleable than we thought. This can all be summed up in the famous quantum physics double-slit experiment where an electron can exist as 2 different states: a particle and a wave. Which state depends on how it is being observed, so these 2 different states of being are happening simultaneously. Ok, enough of physics, what about ET's and UFO's?
In April/May 2013 I co-produced the Citizen Hearing on Disclosure, a monumental event which gathered together over 40 witnesses mostly ex govt. officials and military of high rank and tenor and put them before 6 former members of congress in a mock congressional hearing that spanned 5 days and over 30 hours. The testimony was compelling and the congress members were mesmerized as the week unfolded. We live streamed the event and received a fairly decent amount of press, considering the "Truth Embargo" that surrounds the subject matter. Continue reading →