Most commercial brand pet food contains meat and grain by-products, preservatives, artificial fillers, and syrups that aren't doing your pet any favors. Countless reports have been filed of issues including skin irritations, illness, and disease.
There has been a revolt against dog food manufacturers' "nutritionism," which is the misguided belief that scientists can engineer food better than Mother Nature.
Nutritionism holds that the sources and conditions of ingredients used to make pet foods are a separate matter from the finished product, and so as long as the nutritional content meets standard criteria, conventional kibble is an ideal replacement for fresh, real food.
 The belief that factory-made pet food is superior to a pet's natural, ancestral diet is not only flawed, it's arrogant. Put your pet first with these recipes that will keep them healthy, happy and strong.
Peanut Butter Dog Biscuits
These homemade dog biscuits are a healthful and wholesome treat for your pup. Keep these in an airtight container to keep handy and fresh, or better yet, share them with other dog-owners as a gift!
Ingredients
•   2 1/2 cups whole wheat flour, rice flour or coconut flour
•   1 teaspoon baking powder
•   1 cup natural peanut butter
•   1 cup water
•   2 tablespoons honey
•    1 egg
Instructions
1. Preheat oven to 350F
2. In a large bowl combine flour, baking powder, and the egg. Add peanut butter, water, honey and stir until you have stiff dough. the dough becomes very firm and sticky. you may need to use your hands, or the paddle attachment on your mixer.
3. On a lightly floured surface, roll out the dough about 1/2-inch-thick and use a cookie cutter to make fun shapes. The treats barely spread and rise, so get creative with your shapes.
4. Bake for 20 minutes, until golden.
Wholesome and Hearty Dog Food
Keep your dog healthy and fit with this easy homemade recipe that is quick, cheap and healthy!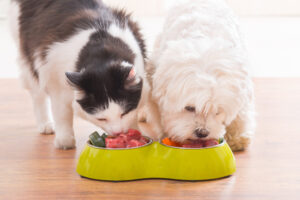 Ingredients
•   1 1/2 cups brown rice
•   3 pounds ground turkey (or beans, if you serve your dog vegan or vegetarian)
•   1 tablespoon olive oil
•   3 cups baby spinach, chopped
•   2 carrots, shredded
•   1 zucchini, shredded
•   1/2 cup peas, canned or frozen
Instructions
1. In a large saucepan of 3 cups water, cook rice according to package instructions; set aside.
2. Heat olive oil in a large stockpot or Dutch oven over medium heat. Add ground turkey and cook until browned, about 3-5 minutes, making sure to crumble the turkey as it cooks.
3. Stir in spinach, carrots, zucchini, peas and brown rice until the spinach has wilted and the mixture is heated through, about 3-5 minutes.
4. Let cool completely.
Cooked Cat Food Recipe
Cats are obligate carnivores, meaning, that they must eat protein from meat or fish with high amino acid contents. Making homemade cat food can be a little tricky – striking the right nutritional balance is imperative. Cats can eat both a cooked or raw diet, but for safety and ease, here's a cooked days' worth of meals for your cat.
This recipe is protein-packed with a wide-stretching nutritional balance that will keep your cat strong and healthy. Mix it up to ensure your cat is eating a widespread nutritional diet.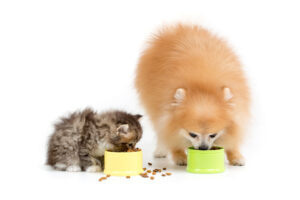 Ingredients
•   Cooked dark meat chicken, beef, pork, lamb, salmon, or tuna (83 grams or 3 wt-ounces)
•   Cooked white rice, oatmeal, barley, corn, peas, or pasta (50 grams or 1/3 cup)
•   Cooked sweet potato, without skin (30 grams or 1/5 cup)
•   Vegetable, safflower, olive oil or fish oil (1/4 teaspoon)
Mix the ingredients together and serve.
The Hearty Soul is the #1 source of natural health information on the internet. With healthy recipes, natural remedies, and the latest studies, we enrich our readers lives and help them along on their path to wellness. Learn how to unlock the healing power of superfoods with our comprehensive ebook (free for a limited time only!).
SOURCES
http://damndelicious.net/2015/04/27/diy-homemade-dog-food/
http://www.thecookierookie.com/pb-dog-treats/
http://pets.webmd.com/cats/guide/homemade-cat-food-and-raw-cat-food?page=3
http://www.petmd.com/blogs/thedailyvet/patrick-mahaney/2016/march/homemade-pet-food-or-store-bought-pet-food-which-better-33726
http://www.dogfoodadvisor.com/dog-food-industry-exposed/nutritionism/