Connect your spirit to your sustenance by learning a few primitive skills! What do I mean by primitive skills? From raising chickens to making fire to growing squash and stitching clothes, primitive skills refer to a broad set of practices and knowledge that all people used to have.
These are the practices that fed us, kept us warm, and allowed our species to survive. They pre-date the industrialized way of life, and they were as essential then as reading, writing, and paying your bills are now. Here are 7 reasons to learn some of these skills…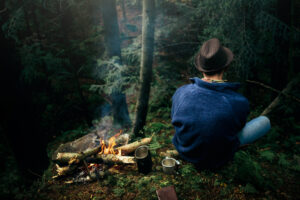 Help save the planet – This one's kind of important… Primitive skills were all we had to survive when we lived in harmony with the Earth. In fact, they were all we needed. In the face of global warming, water shortages, and an atmosphere of general global chaos, we all need to step up and do our part. Marrying our modern technology with the wisdom and skills of our most ancient ancestors will set us up for centuries of beautiful abundant living.
Builds confidence – Taking the time to learn a new skill is rewarding, but the results multiply when you do something that resonates with your spirit. When you do something that your ancient ancestors would be proud of, you are inspired in a way that is uniquely and characteristically human. If you can make a fire with your hands, you'll feel like you can do anything.
Grow your own food – Rewarding and delicious! If you haven't ever grown something, waited to see it form and ripen, and eaten it for dinner, it's time. You'll love it and you'll feel your connection to the Earth grow every time. Take it a step further and learn to can or preserve your food when it is in season and abundant, (whether you grew it or not).
Reduces stress and anxiety – No tricks, pills, or self-help books to buy here. Pick up your tools and walk outside. Leave behind your iPhone. Connecting to the natural world around you will disconnect you from your daily stressors. Unless that stressor is a mountain lion, in which case you should go back inside for the time being.
Great family activity – Everyone can help when it's time to set up your spring garden. Parents, children, and teens will find engaging outlets outside, and can often find positive ways to spend time together. Take it a step further and try out a weekend primitive skills gathering, (like this one). On the homestead, your family is your team. You will find something for everyone.
Be more self sufficient – You don't have to go totally off-grid to establish your dominion. Having even a few permaculture-related skills and some experience will empower you in the way you see yourself and your capabilities, and it will never look the same again. Look up homesteading schools near you to learn what works best in your environment. Here's an example of a great one near Asheville, NC, called Wild Abundance.
This stuff is really fun! If you're going to put time and effort into a new skill, do something you enjoy. To me that sounds like bow making, but to you that might be studying plant medicines or making an earthen oven. To each their own.
In this modern world people need to return to a symbiotic relationship with the land and life around them. The great news is that this doesn't have to be a sacrifice. Bringing this ancient wisdom into your life will bring great joy, fulfillment, and a chance to bond with your tribe.