Do you remember the movie Men in Black, where the aliens are rolling around marbles and when the alien picks one up, you see that there are millions of galaxies inside each one?
Hold onto that thought.
In 1901, Richard Maurice Bucke released a book titled Cosmic Consciousness and in it he explained that everything is composed of an all-encompassing immanent God.
Meaning that the universe itself, is a living organism and each planetary body has its own consciousness that is linked to the cosmic consciousness of the all.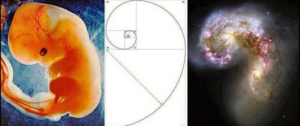 Throughout his work, you are opened up to the patterns. Once you see the pattern you begin to understand where you are in existence.
It starts with the Golden Ratio that you would find in flowers, pine cones, and sea shells and moves on to roots of trees, thunderbolts of lightning, and tornadoes.
This understanding can be applied to the microcosm and macrocosm for you science minded folks. As it signifies seeing the same patterns reproduced on all levels of the cosmos. From the largest scale to the smallest scale, the macrocosm represents the universe and the microcosm represents the small sub atomic at even metaphysical levels.
Let's think on that for a bit and move on. Continue reading →