E N E R G Y…. Although I have been an energy healer, channeler, and Spiritual Intuitive for about 7 years now I STILL think the word "energy" sounds SO new age-ish, don't you?  Let me simplify and demystify this simple word's meaning, and explain what healers like myself know energy to be.
Energy = Free floating emotions and thoughts. That is way more simple than you thought it would be, right?
Now that you know this I would like to invite you to take a moment after you read this article and think back to a time when you were in a GREAT mood, TOTALLY loving life, then you walked into a house or business and immediately felt edgy, or even angry, for no reason what so ever!  It has happened to me countless times and unfortunately, before I understood "energy", it's effect on me, was the basis of my depression, anxiety, and several other issues I struggled though for 16 years.
In 2009 I developed the ability to SEE energy, auras, angels and spirit guides with my eyes so I became driven to understand how it all worked.  I quickly learned that my sudden mood shifts we're caused by another person's energy, or free floating thoughts and emotions, entering into what I call my snow globe or in other words my pers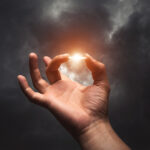 onal bubble and field of consciousness.  The mood shift I would experience as their energy came into my snow globe was due to my brain processing those experiences as my own.
Here's an example: Let's say it's date night at the house.  All is great, but you need to run out to buy butter for the popcorn.  You happily trot on out to the store while your happy date patiently waits for you to get back. While at the store you get rung up by a lady whose spouse is FURIOUS with her!  She does not share this with you.  In fact, you hardly say a few words and then smile and wave goodbye.  Five minutes later you walk through the door of your house and you get a nagging feeling that your date is FURIOUS at you!  Your mind scans for
reasons…. Did I take too long?  Did I buy the wrong butter?  Your mind pulls up a memory of a time 5 years ago when you were late for a date and your partner at that time yelled and screamed and broke up with you.  You begin to panic! Continue reading →