Do you grow tired of sidewalks and concrete, buildings and bricks?  Does your soul feel a longing to return to green surroundings bursting with beauty and vitality?   Me too!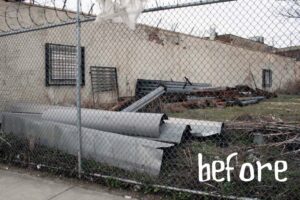 Let's do something about those drab grey landscapes and create the change we want to see.  :)   Today I'd like to share one great way to do that, called "Guerrilla Gardening".
This form of gardening is done on the down-low and sometimes on the fly.  It involves cruising around like a garden ninja and leaving beauty and abundance in your wake .
There are already a ton of great people around the world cultivating neglected landscapes, lets join them and be a part of the solution.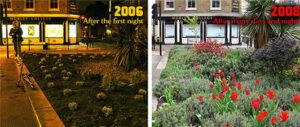 Garden Ninjas (I like that phrase :P) are taking wasted public spaces and transmuting them into abundant and useful edible landscapes.  Do you want to be a garden ninja too?  Here are a few ideas I've collected to get you started, they are easy and fun.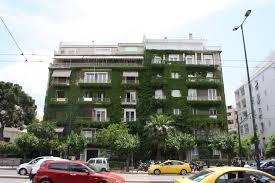 Vines  Do you wish your surroundings were a little greener, but don't have a lot of space?  Why not plant some climbing vines.  There are all sorts of awesome vine plants to choose from, if you live in a warmer climate you could plant wysteria or some other sweet smelling plant.
You could also plant edibles, like beans, grapes, or cucumbers, it's up to you!  With vines, not only can you grow tasty food, you can also use them to shade the house during hot summers.  Vines are a great way to cut down on cooling costs.

Seed Bombs.  Awesome on the go planting tool.  Take some seeds, some clay, some compost and worm casting and form them into a ball with some water.  Now just toss em where you want them to grow.   Here's a good article on making seed bombs.
http://www.instructables.com/id/How-to-Make-a-Seed-Bomb/
Grafting.  Have a lot of shade trees bordering your sidewalk?  Wouldn't it be great if they also produced fruit?  You can make that happen by grafting a branch from a fruit tree onto a regular tree.  Here' s a great video by Guerrilla Grafters that shows you how to do it.
Want some more great examples of Guerrilla gardening?  Check out the TedTalk below to see what Guerrilla Gardening has done for garden ninja  Ron Finley and his community.
https://www.youtube.com/watch?v=EzZzZ_qpZ4w
These are just a few ideas to get you started and inspired.  Guerrilla gardening can be as simple or complex as you want to make it.  Just remember to take into consideration the fact that you might want to finish your project quickly.  ;)