This interesting art of body marbling is starting to gain popularity recently. Body marbling stations are popping up, especially at festivals; it is already called 'body-painting of the future. It turns your body into a work of art by simply dipping your arm (or another limb) into a barrel or a bucket where marbled image on the surface transfers to the skin. This dip-dye results in the most trippy temporary tattoos.
Body marbling uses the same techniques as the traditional marbling style. The water is decorated with paint that floats on the surface. Even the visuals look similar with the dripping and the dragging of the paint. One big difference is the kind of paint that is being used for body marbling. This is a water-based paint which is non-toxic for the skin and also safe for clothing. Often neon or UV-active colors are used which gives an even more fascinating effect under black light.
The term 'body marbling' was first used by the pioneer Brad Lawrence. While he was a student at college for creative studies he got diagnosed at the age of 23 with acute tendonitis in both arms.
This made painting and drawing increasingly more painful. Lawrence sparked an interest for abstract art and ultraviolet colors. The bottles which he used for this form of art reduced the pain in his arms. This method of painting inspired him to begin the company Black Light Visuals which led to what we now know as body marbling.
To marble your body you will have to follow three steps:
– The first step will be dipping your skin into a salt solution. This creates a prime layer and helps the paint get absorbed better into the skin. While waiting for the salt water to dry completely, the colors can be chosen and the design can be made on the surface of the water. Using dripping, scratching, twirling and turning techniques a unique psychedelic pattern is created.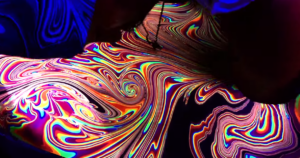 – The second step is dipping your skin into the hydro-dye in one motion. The print is set immediately so the skin can be retracted straight away. Do this slowly.
– The third and last step is to put the skin in a water bin to rinse the excess paint off. Let this dry and voila, your temporary tattoo is ready.
Normally the paint stays on the skin for approximately 8-10 hours. This depends of course on how you treat your skin.
These videos demonstrate this intriguing new trend. Would you give body marbling a try? Let us know what you think about it.