In our busy society today, stress is an often recurring phenomenon. Not only does this influence us as adults, this also influences the children. Occasionally they do not get the care and attention they deserve and need, as a result, children do not get to enjoy their childhood in the way they should.
Education and facilities where the children stay during the day have become essential in the upbringing of a child's life. That is why many parents are really concerned when it comes to where and in who's care they leave their child while they work during the day.
This led to many different kinds of education in school and preschool around the world, taking a more holistic approach. From Waldorf education to Montessori and many others.  All with their own different philosophies and theories in the best ways of educating children. Every single one with their unique way of handling a child. All have many interesting benefits.  The following type of preschool takes it even a step further and is one of a kind.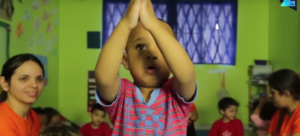 In this video, we follow the story of a boy called Matheus. He got neglected and abused by his mother. His neighbor Joel became the boy's main caregiver and was very scared in leaving the boy with other people. There is one place though where he trust to leave the Matheus;
Centering mindfulness as a component of instruction. Mindfulness has been said to decrease stress, improve behavior and increase students ability to focus. In Sao Paulo, Brazil, surrounded by slums we find  the Zen preschool called Ananda Marga Centre, where they provide full-time daycare. A place in which many parents entrust their children. This is where children up to four years of age get to practice mindfulness techniques, meditation and yoga. It doesn't matter if a child is rich or poor, they are all treated equally.
"We try to offer a different approach, a positive one. This we do by making the children feel loved and letting them express their feelings and emotions. Giving them the full attention they deserve. We are going to focus on their balance, boundaries, education and values. We involve the entire learning process; cognitive, intellectual, physical, and creative." States the director Juscelina.
A place where children get the chance to fully express themselves and truly be a child the way a child deserves to be.
How would you feel about sending your child to such a unique environment?

By: Elimor Bader, The Earth Tribe