Todays reading truthfully is about honesty, and opening up our emotions.
The Cards are: 4 of Swords (Truce) – Ace of Cups (Essence of Emotion) – and the 9 of Wands (Strength). Together, they tell a story about the balance of mental energies, and opening up your feelings to create meaningful growth.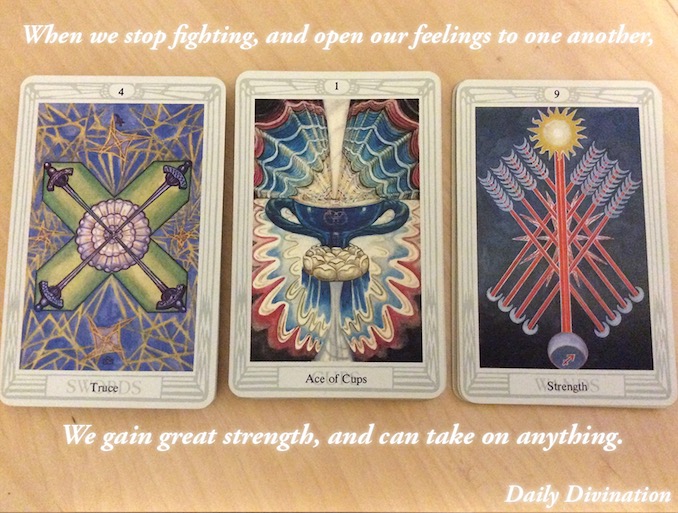 [shareaholic app="share_buttons" id="5111567″]
Lets go through these cards one at a time:
The 4 of Swords is Truce. Swords is a mental energy, and the card depicts 4 swords pointing towards each other around a blossoming flower. Together they create a large X, self contained around all of the chaotic mental energies.
The Book of Thoth describes this as "the strong man armed, keeping his house in peace". 
The nature of the Air element is constantly in Motion, but the 4 is what happens when the mind solves a problem, finds a solution, completes a process, or has come to a satisfying compromise. Truce, a peace, can be enjoyed. If it stays still for too long it can lead to stagnation, but in this state, there is still a peace.
It is in this space that we come to card number 2. The Ace of Cups. Water in its most secret and original form.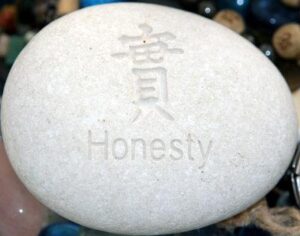 This card shows the way deep into our soul: our inner beauty and trust. It is our greatest source of love, for growing feelings, and the desire for a relationship or the readiness to have a friend.
This is pure feelings and sensitive intuition. It is the essence of the emotions itself.
This card signifies the central theme of this reading. We need to express our emotions, let them flow – truthfully and graceful. This is the desire to melt into one another, and devotion to the connection.
It is in this that we build great strength, which is our final card. The 9 of Wands. 
This card is referred to as the Foundation; bringing energy back into balance. This card reflects upon itself, which is why you see both the Sun, and the Moon in the same card. It shows strength, determination, and discipline, preparing itself for the final step to completion.
Let us remember that in being true to ourselves we release energies that will help us deal with whatever we find within. Whatever we find in our own subconscious is, for better or worse, a part of us.
This is our inner strength that shines like the sun, and invokes personal reflection, from what came before.
~
So open up, and share in a sacred space with someone you care dearly for.
It will build your strength and open you up to all kinds of new, like you never before believed could be possible.
Thanks for reading!
With love,
Jordan
~
Daily Divination is posted every morning at 5:26 am PST! See you tomorrow!