Africa is a beautiful and majestic land, rich with lush plant-life and magnificent animals.
The animals play a huge part in African culture, and their symbolism can be found throughout countless pieces of art and historical accouterments. Each animal has a specific meaning and signifies a certain quality or characteristic.
In fact, several African tribes believe wearing animal carvings on their masks will improve their communication with animal spirits who live in the desert or wooded areas. Interested in what each animal symbolizes? Read below:
The Lion-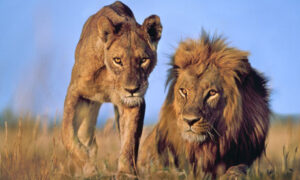 The lion signifies strength, both in personality and physicality.
He represents courage, valor, and pride.
His counterpart, the lioness, represents femininity, motherhood, and the moon.
The Leopard-
The leopard is known as the Great Watcher, and is a symbol for cunning, agility, and ferocity. The leopard is highly revered in African cultures as a master hunter due to it's secrecy and mystery. Continue reading →