"People think a soul mate is your perfect fit, and that's what everyone wants. But a true soul mate is a mirror, the person who shows you everything that is holding you back, the person who brings you to your own attention so you can change your life."
– Elizabeth Gilbert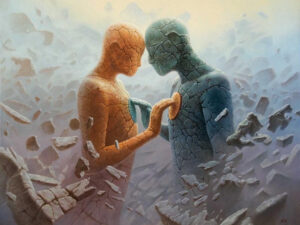 I remember when I was in my 20's and still held onto the misconceived romantic notion of a "soul mate."
You know the one: one day you will meet the man or woman of your dreams and they will fix all of your broken pieces, thereby making you complete.  That concept is wildly inaccurate, in regards to what an actual soul mate really is- a mirror.
When we believe there is another person who can make us whole, we are ineffectually calling ourselves "incomplete," and we are anything but that.  We have the power within ourselves to achieve that oneness; we really mustn't try to find the answers to our problems in another.
By thinking we are only halves meant to become whole, we are in fact searching for others who see themselves as halves as well. But what does this accomplish? If you feel like a shattered spirit, then you probably attract the same .