Today's reading comes with a strong theme of movement and change. Powerful, maybe even chaotic forces are at work but do not let that scare you.
Disruption breaks us free of our old habits and even our old selves. That which doesn't serve us anymore can be set free to create space for new habits, new mindsets, and new opportunities. Let's dig in.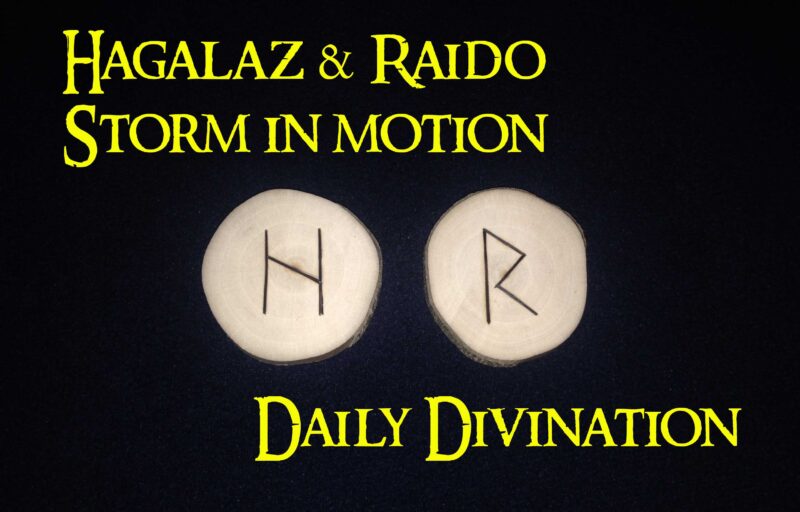 Hagalaz is our first rune, the storm rune of disruption. It gives us our modern letter 'H' and translates to hail, reinforcing the idea of the storm of natural disruptive forces. It warns of challenges and possibly the delay of action due to unforeseen complications. Like many others that can be perceived as negative, it takes a deeper interpretation to see their necessary place in your life.
Strong winds that change or even destroy your plans may save you from going too far down the wrong path. They might highlight weaknesses in yourself or your projects that may need to be mended and strengthened before moving forward. A house that cannot survive a storm is not a safe house for you and your family.
Our second rune is Raido, the rune of the journey or the travelers rune. Above all, it is linked to motion. It may indicate that travel is necessary or that movement is required, or the travel or return of loved ones. To move up one level, it can also refer to the spirit quest of your life.
We humans are busy by nature, moving constantly just to stay alive and always striving to make things better. We yearn for experiences outside of our comfort zone and we long to see exotic places. True travel is one of the most liberating experiences we can have, and it rewards us with a sense of wonder. We see our small place in this world and though it is small, it is grand.
Together we see the storm in motion. Raido acts on Hagalaz to produce change and movement in an already chaotic environment. The forces at work will be jarring for sure, and often frightening. Today, look at it for what it is. The movement is you moving forward through your life unafraid. You come upon challenges and you stare them down. You walk through doors and you take opportunities that were too frightening just last year. You're a new person with a new set of strengths, and a vast knowledge of who you are and the mission you are on. Carry on and do not give in to worry or doubt. You are ready to stand in your power and take on whatever may come.
Alistair & Forest