Oh how we love our transformational festivals!
For so many of us they have guided and shaped chapters of our lives, inspiring us, exposing our souls to new truths, to incredible workshops, art, beloved friends, community and deeply moving music that stays with us throughout the year. They are called transformational festivals for a reason, because when you come to one you leave changed. And yet the transformational festival scene is also going through its own metamorphosis. There are many of us who have been forged by this culture that are starting to recognize certain patterns and trends within the scene that no longer serve our highest alignment or excitement.
Whether it's the stress packed, pressure cooker, blood sweat and tears style of event production in this current model, the abuse of alcohol, the amount of over stimulation, lack of rest or the heavy environmental impact; many of us are feeling it's time for a change. I believe that this change is a natural evolution for our culture as we move towards a new story together.
This evolution is not about making anyone wrong for their choices, it's really about following the highest excitement of creating something that will serve the future generations of our planet, have a more sustainable initiative and build systems that are a holistic win win for everybody. It's about harnessing our collective energy  in a direction that can have a higher impact on shifting our planetary paradigm and begin to anchor a new cultural narrative.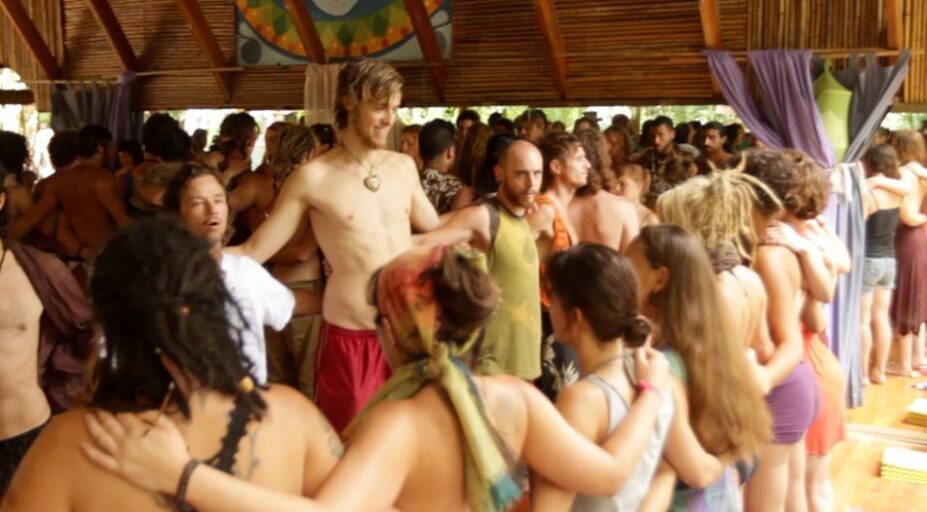 Image Source: Tribal Alliance
As the title of 2016's Lucidity Festival's proclaimed "Cross Roads" this year, it certainly was the perfect name for where we find ourselves now as a culture, and really as a planetary culture. With some of the most clear signs, significant changes and alarming statistics happening in our world, from the environmental, to the political arena, and economics; across the board times are changing rapidly.
We now have the opportunity to participate in forming a whole new paradigm, with a whole new octave of solutions and become powerful agents of change. We have a choice as conscious creators to fully claim our gifts, and make an a more profound impact on the collective or continue on with business as usual. Not to say that transformational festivals are "business as usual", far from it; they have already served as one bridge out of the the monotonous, soul-consuming, spirit numbing grind of the greater society.
Still, I feel it's time to build another bridge. One that includes a more pristine balance in how we approach celebration and the implementation of more solutions, more sustainable, wholesome choices and more concentrated efforts toward real, lasting change.   Let me start by more deeply acknowledging this "first bridge" as I mentioned it; which will be difficult because I've loved festivals so much I could write a whole book on this subject. If we look at festivals like Burning Man, and other transformational festivals that have birthed into the world we see a massive ripple in society; literally a whole new culture has formed leaving its stamp on the world.
Burning Man revealed and popularized the presence of transformational festivals to the mainstream in a powerful way. It met a deep need for community, celebration, the creative freedom of the human spirit, self reliance, the need for rites of passage, ritual and bringing a new cultural mythos and essential spiritual keys into wider acceptance. Yet everything changes, some of the core values of Burning Man are in question as literally millions of dollars are poured into infrastructure and theme camps that will exist only for a brief moment in time.
While leaving a tremendous carbon footprint to even make this event possible in the middle of the desert. Regardless of your stance or view on Burning Man as it stands now; It truly offered an alternative to mainstream society and will continue to evolve and inspire thousands.
But is alternative good enough now? Let me be clear here. I believe in our community, I believe in each individual's sovereignty to make their own choices for themselves and want to express that I'm not shaming or blaming what is or what has been, or what any sovereign being decides to give their energy to, it's all sacred and it all his its place; I am simply being guided to offer my own perspective; that we can do even better. I am one voice, one of many that feels it's time to take a stronger stand for something that can translate into solutions. I, like many others, want to activate a new blueprint to explore our next step in evolution as a culture.
There comes that fork in the road in life where its like, yea ok… I have to choose spirulina over sugar, a good night's rest over burning the midnight oil, if I really want to see the long term effect of my choices and commitments have longevity and legacy. Seeing the longer term consequences is a part of the maturation process of the soul, it's the opposite of what oil companies or corrupt politicians see or do; processes like fracking or other short-term gain, profit focused models that are reaping havoc on our planet and on humanity. If we are truly going to offer something completely alternative and offer solutions we also need to embody these principles.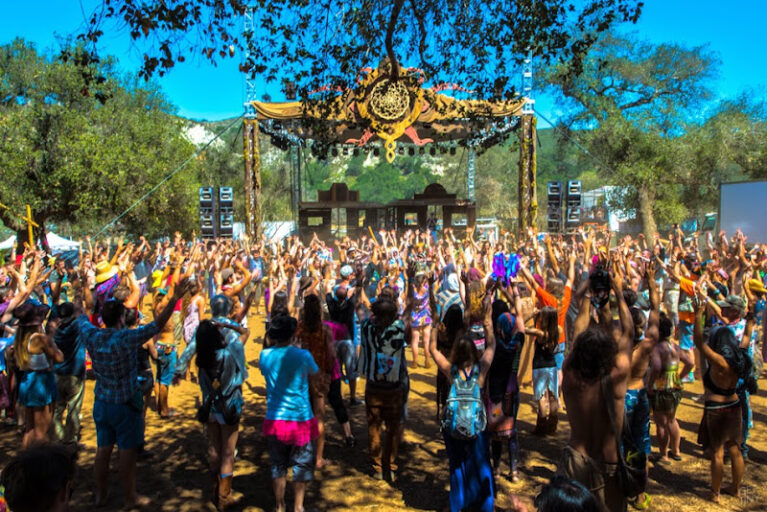 Image Credit: Lucidity Festival
The next bridge as I see it is the evolution from transformational festivals to solution based festivals. Festivals that are anchoring in solutions as a primary focus while still including all the juicy, yummy elements of transformational festivals that we all enjoy so much; with a more sustainable intention. Sustainable for the environment, for people, more conducive to long term commitments, solutions, networking, community connection, more outreach and neutral inclusiveness to people outside of this culture that are ready to experience something new in their lives. The most profound step in evolution for this new cultural narrative as I see it is about taking an active step toward building the villages.
Yes, villages! Epicenter's of new planetary culture. It's not a novel idea, In fact when I've posted on Facebook in the past, the question "If you had $500,000 what would you do with it", 75% of people shared "retreat center, eco-village, educational center" etc. It's a part of a dream that I believe so many of us hold deeply in our hearts and I believe this dream is what many of us are here to steward into being, into manifestation. Think of all the highly committed, highly creative and devoted energy that goes into festival productions. The months that are poured in, the love that is poured in that births a village. How about keeping that village around, not a one time stage, not a one time hub, but on going! This new dream is a tangible solution that is a win win across the board for both the transformational festival scene and for the planet. This takes it all in an active step deeper from 'the party' to solutions; from short term gain and burn out into longevity and legacy.
This principle is something I always share with all of my clients, the paradigm shift from short term gain to long term legacy; and it's a game changer! This step is a leap for many but it's a necessary leap if we are going to legitimize our impact with a greater ripple to the rest of the world. And maybe it's time? How many people have you wanted to experience a transformational festival? How many friends have you tried to bring out to Burning Man, or Lightning in a bottle, to show them what's possible, to turn them on to something more fulfilling?
Now we can show the world what is possible when committed, creative, solution based beings build villages that will last as permanent festival sites and serve as community hubs and educational stations throughout the year. This is the dawning of something so magnificent, so beyond any of our own limited perceptions that I cannot fully describe the intricacies of what this type of process will have on our individual and collective soul evolutionary process. It's a vision I've been committed to for over 8+ years now and for me it's all about our entire culture stepping up to serve at our highest capacity.
I've been working on this vision for the last 3 years more actively, implementing a prototype visionary leadership retreat called Tribal Alliance in Costa Rica in 2014 & 15 after Envision to spark this deeper dialog along with Jamaica Stevens and some other visionaries, festival producers, Elders and community builders. Tribal Alliance was a potent wave of insight and discovery and illuminated some big next steps towards exploring what works and doesn't as two hundred of us converged with leaders who had built successful eco-villages, as well as exploring a multi-disciplinary approach of cultivating ourselves in order to anchor something like this in. We were all a lot younger in our planetary service then, and I know everyone has only deepened their commitments to the same mythos in different ways since then.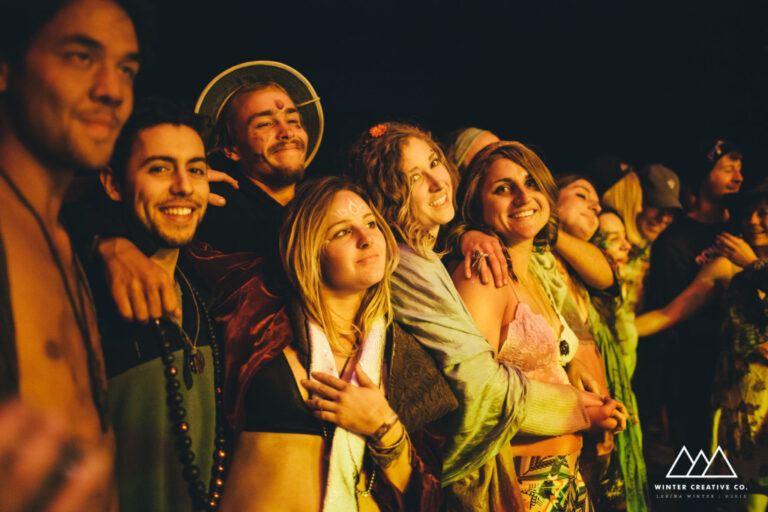 Image Credit: Lucidity Festival
I loved Tribal Alliance but it was back to the drawing board for me. I had come up with a brand and business plan to create a sustainable festival, but was in such a deep internal process of claiming my art as a musician and my work as a mentor, coach and healer that the idea of producing this new model felt a bit daunting. That was of course the case until I met Nathan Crane.
I felt an instant connection with Nathan, how he shared himself, what he had birthed in the world already, his heart, maturity and what he stood for. After only knowing him for a short amount of time I felt guided to share a prototype and proposal that I had been traveling with from meetings earlier that week with investors to create an Eco-Village and Sustainable Festival model. Our "blueprints" were so succinct that a year later I found myself letting go of my attachment to "my" brand that had been downloaded in vision and found myself in full swing supporting the anchoring of the first annual Unify Fest. Unify Fest fully embodies this new mythos, this new cultural narrative.
It has all the elements we were committed to having at Tribal Alliance, from Permaculture, ceremonial ways, to facilitated networking, and it's one of the first of its kind fully anchoring the Eco-Village template as one of the primary focuses of the event. It all starts this year in the magical, sacred and powerful place of Sante Fe, New Mexico this fall equinox. With a strategic plan to purchase land and birth an eco-village and educational center, everyone participating in this festival is bringing something cutting edge. Not only this, but we are also officially announcing that Unify Fest will be taking a full stand for a new collective dream and offer this gathering up as a solutionary alternative to Burning Man in 2017; for those tired of  the desert and ready to grow the oasis.
2016's first year is intending to be more intimate, projected to sell out at around 5,000 participants, so get your tickets soon to be a part of this first year's magical incentive.   Unify Fest is curating an incredible lineup of high vibrational and internationally renowned artists including Trevor Hall, Mike Love, Desert Dwellers, Ayla Nereo, Peia, Bluetech, Dustin Thomas, Srikalogy, and many more. We have also gathered some of the leading heads of the sustainability and permaculture movement, Indigenous leaders and ceremonialist, bringing together tribes from the 4 corners of the Earth, amazing speakers, visionaries, community builders, leaders, conscious entrepreneurs; to incredible Yoga Instructors like Rainbow Mars, Juan Pablo and more. To get the FULL picture of what is happening, watch the latest video on the website : www.UNIFYFEST.com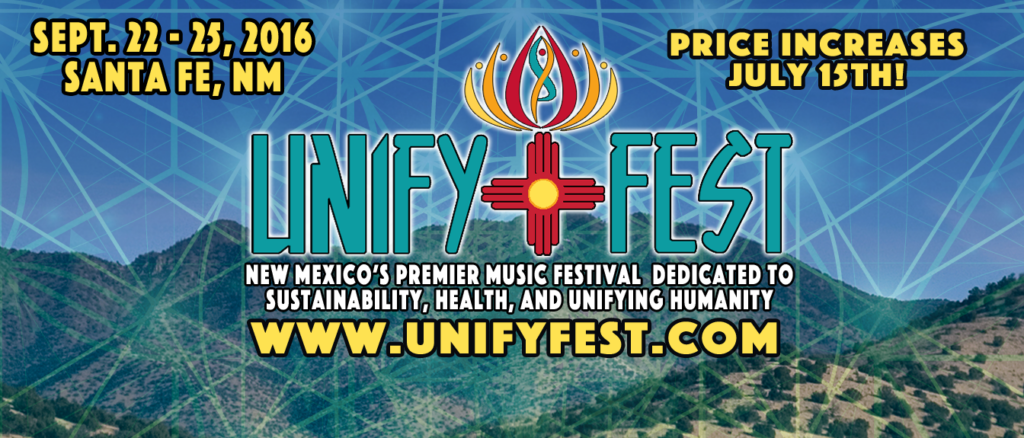 I will end this article with a quote from a segment of a call to action and proposal that I sent in almost 2 years ago for a similar blueprint.. This paints the picture of the deeper internal workings of Unify Fest. I hope you are inspired, and we are excited to collaborate and support other initiatives with the same goal and purpose. The time is now. Come be a part of history, come be a part of the forming of a new cultural narrative; see you in Sante Fe on the autumnal equinox!
With Love & Devotion, Alokananda   "We see waves of impact that have their own organic unfoldment. The initial impact is on the festival participants. This being made up of many different fractions of the collective new paradigm communities, organizations, visionaries and leaders. When pivotal leaders meet and relate for the first time the impact is extremely powerful, for as alliances are formed the effect of collective efforts are increased exponentially. Think of more archaic times when many tribal chiefs gathered to discuss the preservation of their people in the face of a great threat. The unity that formed was impeccable and created tangible results where that unity enacted accountability through clear agreements and grounded action as everyone moved forward.   One of the most tangible solution based models is that of transitioning transformational festivals into permanent sites with infrastructure."