When was the last time you felt good about eating Fast Food? It's probably been quite a while. If you do enjoy it occasionally, you probably feel a little guilty about what you're putting your body through. Well, it doesn't always have to be that way anymore.  Finally, someone has decided to come up with a better idea and it's spreading like wildfire!
That someone, is Erica Welton. The name 'The Organic Coup" came out as a typo when spelling the word "coop" one day, while Erica was first hatching out a plan for an entirely new fast food concept. It was then that she realized the typo actually captured the spirit of what she was trying to do. She also knew she wasn't alone when it came to wanting a quick and easy alternative to the usual fast food franchises, especially since she is a Mom herself.
Erica then decided her new restaurant would have to be 100% USDA certified Organic. There was no way around it. If she wasn't going to feed her kids GMOs, pesticides or other toxic chemicals, then why on earth would she feed it to other families?  (Applause)  Erica is also very passionate about sustainability and protecting the environment, so she double checks every product her company uses to make sure it is locally sourced, sustainable and environmentally friendly.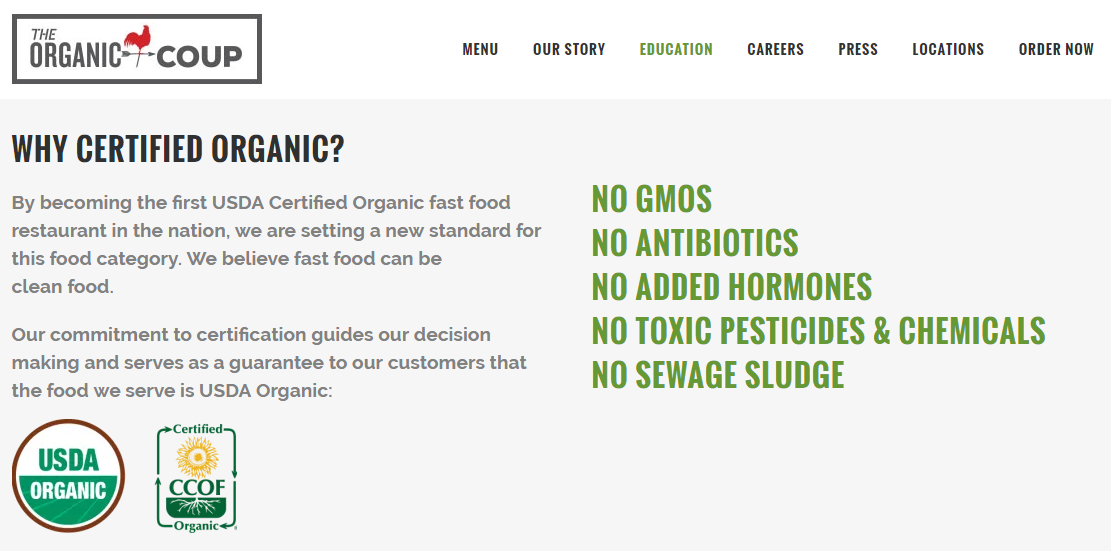 She also had to make sure her food would meet the bar when it came to fast food. Therefore, she would have to design the ultimate ORGANIC fast food chicken sandwich that can please everyone. (Not so easy to do in America)  The chicken would have to skip the usual chlorine bath since that's pretty flippin' disgusting and shouldn't happen to food to begin with. So, Erica did some research and found a cool new way to do the same thing but by using super-chilled air.. the way they've been doing it in Europe for years.
And thus, The Organic Coup Signature Sandwich was born! This time, the chicken gets to bathe in buttermilk and spices instead of chlorine. It's then breaded and fried in locally sourced organic coconut oil, one of the healthiest (and most expensive) frying oils on the market. She pairs it with spicy veggies, a toasted organic Artisan bun and one of her amazing homestyle sauces, like spicy BBQ ranch or sesame ginger.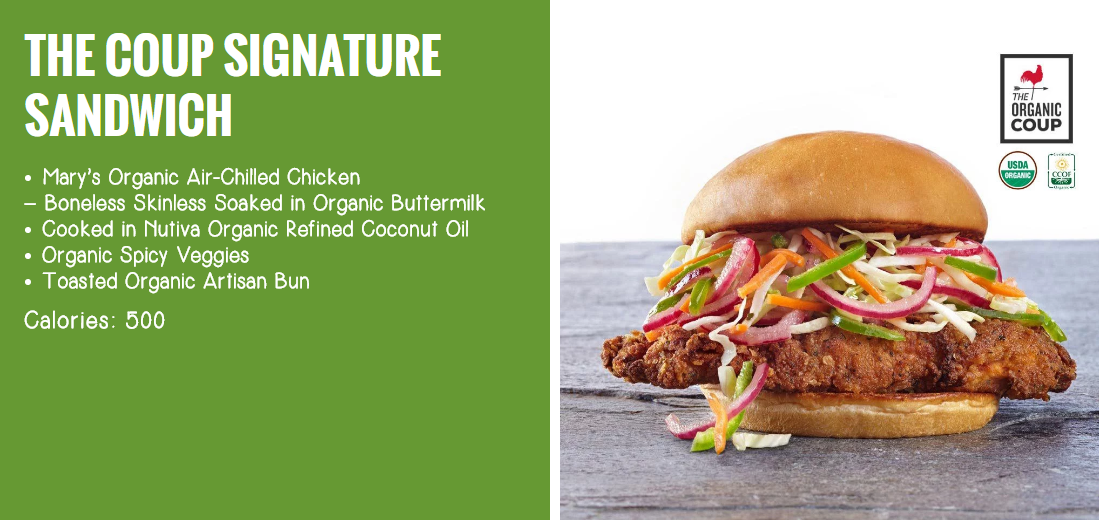 If you feel like skipping the carbs in the bun you can always opt for the wrap or the salad version. Or if you want to go even healthier, they offer a vegan tofu burger substitute from the Hodo Soy Beanery.  (Hodo Soy is the country's leading artisanal tofu maker and supplies the company with its organic tofu burgers)
They also have organic caramel and chocolate dipped popcorn as a dessert. YUM!
We were very impressed by how attentive she is to her business, the quality of the food she provides and how much she cares about her customers and the environment. We probably shouldn't have been surprised to hear that she pays her employees a fair wage too, but when we heard she pays them 16 dollars an hour we were quite stunned. Does paying them so well hurt her income? Not at all! In fact, it actually inspires even more people to only buy from her!
Just think about that for a second. McDonalds and KFC tried to say they would go bankrupt if they had to pay their employees a fair wage. (Lies!) Their products are also pretty much the most unhealthiest food you can buy.
This is what they have to say about it on their website:
"The Coup believes in food that is raised within the Organic USDA standards.  These standards do not allow Genetically Modified Organisms (GMOs), toxic chemicals and pesticides, or the use of antibiotics or added hormones in livestock.  We believe in sustainability, not just for the quality of life today, but also for the future.

We believe in "Team Coup" (our employees) and we are investing in them with a livable wage that sets a new standard in fast food. We are building an army of Coup Nation Ambassadors as the food movement is at its tipping point. Coup Nation Ambassadors – people like you – are changing the status quo by transforming the conventional and unsustainable food system through vision and action. The simple act of buying a certified organic sandwich makes you an agent of change. We are seeing the future of food come from people with deep courage, powerful voices and unwavering vision who want to make a positive impact.  Please join us at The Organic Coup in eating your everyday peaceful protest."
Looks like it's time Erica shows these multinational corporations how it SHOULD be done!
Check out their website for more details:
The Organic Coup
Article written by Journalist, Activist and Researcher, Lara Starr