Todays card is the Todays card is the mind of the emotions. The Thoughts about your Feelings.
Like, for instance, as I write this, I am observing and thinking about how my feelings are a little hurt, because I wrote this entire Daily Divination up and then LOST IT ALL!!!
It was my fault, of course… and wordpress >_>  but It still made me feel bad in that moment. I'm not holding on to it, just flowing. We're about to turn it into something new.
But of course, it's relevant to the card. SO, without further adieux, here is todays card.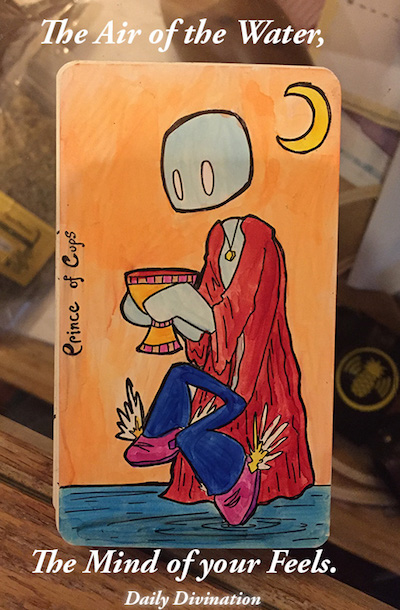 [shareaholic app="share_buttons" id="5111567″]
It's from an old deck that i've been working on since 2011!! (Nicole, are you reading this?! Look! It's still happening!)
The Prince of Cups is in essence, the way that you observe and think about the feelings that you have. Not necessarily also understanding all of the depths of the feelings, if only because often the nature of the feelings are much deeper than the young mind can perceive.
This is a youthful, male – mental energy observing deep emotional energy.
Corax described the symbolism way better than I could actually!
The Prince of Cups represents the Air above the waters, as the son of the Knight and the Queen – Fire and Water – he combines both the fiery flames and the watery depths of his parents, bringing them up in the heights of the Air.

So the Prince of Cups has all the emotional depths of the water, but also the intellectual values of the Air. He is clever and open minded, and his emotional soul can make him a sensitive artist or philosopher.

On the shadow side, the Prince of Cups can be reckless and selfish, always striving to improve his own goals and studies, carelessly sacrificing relations in order to perfectionate his art or passion , and he can be quite shifty in dealings.
Thanks Corax!
What is this card supposed to mean for you specifically? That's up to you.
All I know, is that it means a lot to me.
Thanks for reading!
Love you so much!
Jordan
~
Daily Divination is posted every morning!