You can find a lot of information about the Eclipse happening tonight across the web, there is a lot of information out there from many different sources. I'm going to do my best to consolidate all of it here in one place, and show you where to go to learn more.
What is it?
The significance of this celestial event tonight is the rarity of all of these different items happening at once. These are the Supermoon, Blood-Moon, and Eclipse phenomenon. For those interested in the prophecies connected with this event, scroll down past the diagrams. For those new to the subject, here's a brief description of each! You can click the titles for more information on each of them.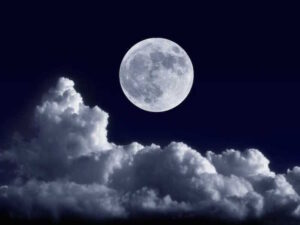 Supermoon -The Moon appears slightly bigger than average because of the rotation and orbits between the moon and the earth. We only see a perfect full-moon supermoon once every (roughly) 14 full moons, however because of the constant orbit around the earth, there may be as many as 3 supermoons in any given full moon cycle. They're just not full, sometimes you don't even see it because it happens on a new moon.
Eclipse – There are two kinds of eclipses, Solar and Lunar Eclipses. What we're talking about here is a Lunar Eclipse, when the light from the Sun is blocked from reflecting the light of the full moon, but the moon still appears visible (Images below). While not all eclipses are blood-moons, typically they do make the moon appear slightly red… So then, what is a blood moon? I'm glad you asked!!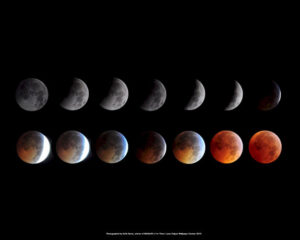 Blood Moon – The Blood Moon used to be a name describing a total Lunar Eclipse, which would make the moon appear red in the dimming of the reflection of the light from the sun combined with the shadow of the earth. However, in modern days it has become a widespread name in the media for a Tetrad of eclipses, when you see 4 blood moons in a row without any other eclipses happening between them.
There is actually a prophecy I've taken some time to write about below, regarding the 4 blood moons in a row and the end times of our great cycle.
When is it happening?
Obviously a great many of us will want to see this great event! Fortunately, some wonderful people across the interwebs have put together these great images describing the how, where and when. Take a look.
First, here's a time-table for all of the timezones it will be visible in. Courtesy of Space.com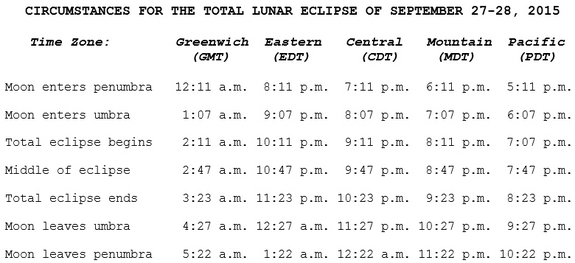 Next, here's a diagram of how its going to appear from a 2D diagram perspective. The times given are Mountain time, so feel free to adjust it using the timetable above as needed. Image courtesy of County10.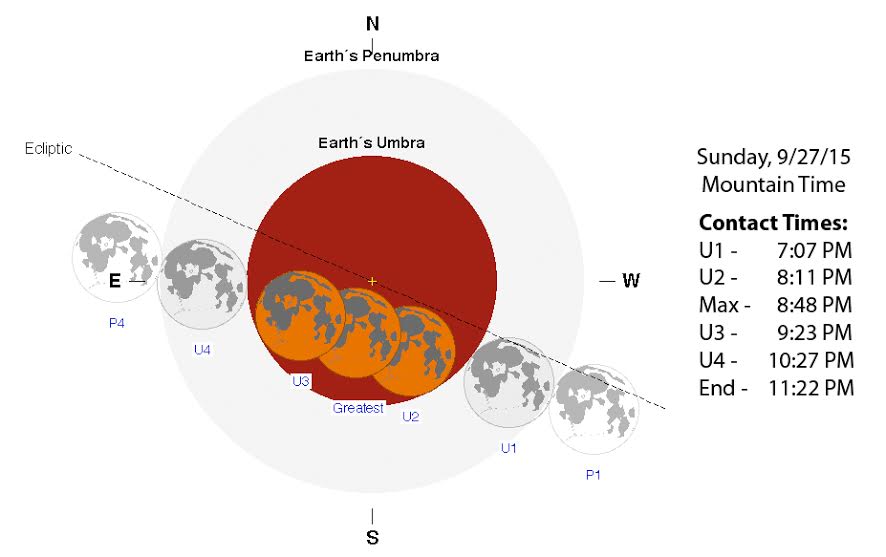 Continuing these images, here's a 3D image showing you exactly how it works, as the earth, sun, and moon all line up with each other during this important celestial event. Note – this is not to scale. Image courtesy of thelucidplanet.com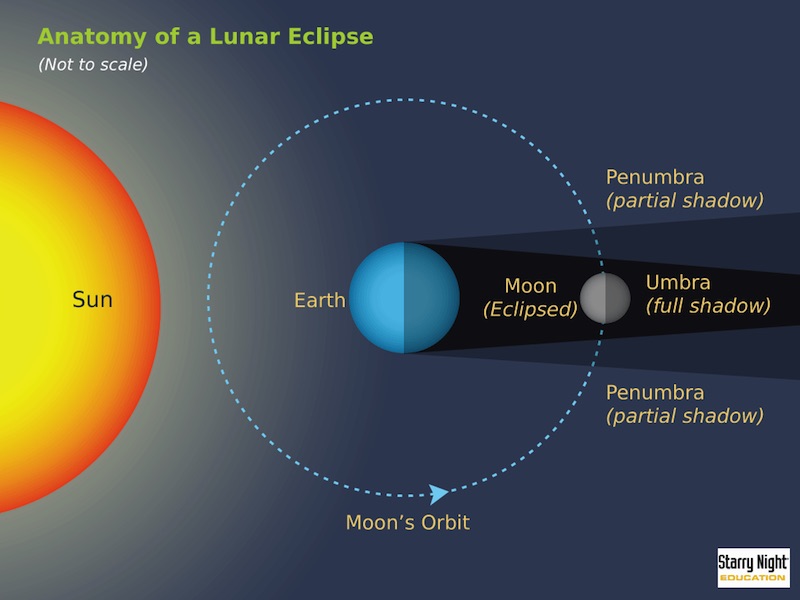 Finally, here's a graphic showing where this eclipse will be seen over the surface of the planet. Image courtesy of timeanddate.com. Unfortunately, the entire world won't be able to see this event. Nonetheless, it shall affect everyone, just as full moons always do. 
[shareaholic app="share_buttons" id="5111567″]
The Blood Moon Prophecy
Back in 2013 a book was published by Christian pastor John Hagee, who wrote about a prophecy from the book of Joel & Revelations. It was actually this book that popularized the term "Blood Moon" meaning the 4 successive deep-red moons in a row. Of course, it was not without many bible quotes:
The sun will be turned to darkness, and the moon to blood before the great and dreadful day of the LORD comes.
If the ancients had truly seen a vision of the future, then one could observe these successive blood moons and connect them to these events that are happening today. Is any of it definitive? No, but the connections, along with the state of the human race currently truly paints a picture of what is to come (see next section for more).
Another interesting phenomenon (if you hadn't noticed on that image above), is that every single one of these 4 successive and rare blood-moon events took place on a jewish holiday.
I don't know about you, but that is a WILD synchronicity. Maybe there is something more to this.
What does "Closing of the Great Window" mean?
As it is embedded in the Mayan Calendar, the great window was a window of opportunity between (roughly) 2009 and 2015, in which December 21st, 2012 fell right in the smack middle of this window. During this time, Mankind had an opportunity to learn and grow with all of the information that had become available thanks to the internet.
Information became widespread because it was at everyones fingertips for the first time in history, easier than it has ever been before in the infant stages of the world wide web. There was new discussion, new awakenings, and shifts that occurred in the hearts and minds of the many as they began to see the world in a new, more connected way. It was a brief, mini golden age of information.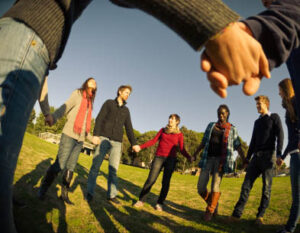 While this information is no doubt not going anywhere anytime soon, it is also a signal of greater things to come. This is just the beginning for mankind, for we face the trials that we have set before ourselves. No, literally. We have set ourselves up for it by building technologies that are counter to our very existence. Meaning simply, they hurt us, pollute our bodies and limit our capacity to think clearly.
We have a bunch of trials to face, almost as if a test to see if we are fit to live on this planet, or if we will destroy ourselves in the process. The question is will we come to know the Consciousness of Christ through that special compassion only known in the heart? That is up to all of us.
Understand this is not an immediate danger or signal of the end of the world all at once, but a time of great caution, preparation, and using resources effectively and efficiently. Those who are wasteful will run out. If not beyond that – it is a time when we must practice true, genuine compassion with each other.
For that… and only that, is the way through.
What does it mean for you?
Here are some things I've read about this particular moon cycle we're going through right now. This is some of the most helpful and insightful information I've been able to find, and I've highlighted the best parts for you.
The potential here is to harmonize the I and WE Consciousness. To embrace being assertive and cooperative so that all parties involved feel at peace and are honored as best as possible.

-Dipali Desai (click name for full article)

 "With this last Aries Blood Moon Total Lunar Eclipse, it's time to integrate the endings, awakenings, transformations and death and rebirth experiences related to the balance of Self and Other, completing our initiation into a more balanced exchange between the masculine and feminine energies of life as well as between women and men."

–Cathy Pagano (click name for full article)

"First and foremost we want to dramatically change our relationship with ourselves- as anything we want or need or desire OUT THERE can only be fulfilled and truly experienced when we have found it IN HERE.

"Any relationships that are on solid footing are fine- you may experience things that rock your boat, but if your ship does not have holes in it and you are both willing to do the work to row to a safe harbor you will be fine.

"For others who have issues up and perhaps have large holes in their boat- this final Eclipse may be a time to think about whether those issues/holes can be fixed and if both people are willing to do the work necessary to fix them- or if it's better to jump ship before you go down with it…"

-Divine Harmony (click name for full article)
To read more stuff like this, check out this article on MysticMamma!
In Closing
MEDITATE!!!!
(No really, slow down… calm down. Breathe, and Meditate)
I know personally that these past few weeks have been particularly trying and incredibly difficult. "God… How far will you test us?" I actually asked only the other day, both referencing Gurren Lagann and genuinely feeling the strain of "What do I do?!" 
All I can say is, trust in your heart. Listen to what your heart is telling you, listen to the heart of others… Grow from your mistakes, and above all else: Compassion.
Compassion is always the key. That means compassion for your loved ones, compassion for you, and compassion for others. Feel free to do a search on Spirit Science for articles about compassion. Here's a particularly good one by Deepak Chopra. 
Here's a video we made about just that.
Whatever awaits us moving forward, know that you are always in our hearts.
May great change take place. To a new era of peace and prosperity!
With love,
Jordan, Ray, and Alexandria