Being preoccupied with negative thoughts is the most widespread disease of our civilization. This does not need any proof or any concrete data, because everyone you talk to about it would agree that this is also happening to them.
Negative thoughts, besides burdening us and showing us a completely wrong picture of our and other people's lives, and besides damaging our health, have a very interesting paradoxical characteristic – you will often be convinced that you are thinking positively, that you are full of enthusiasm, but, in fact, these thoughts will be negative, without you being aware of it.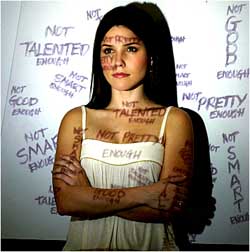 There are numerous, everyday examples, and you will immediately recognize them from your personal life.
Let's say that, as they say, you are working on yourself and you want to raise your self-confidence, self-esteem, become more confident in yourself. We all need that and it is very important, good, helpful and nice to work on this, but how can you achieve it? Do you build your self-confidence by only working on yourself, or do you use affirming thoughts to oppose other people?
– I WILL NO LONGER ALLOW THE PEOPLE WHO ARE WORSE THAN ME TO BE AN OBSTACLE
– THOSE WHO DON'T LIKE IT CAN LEAVE MY LIFE
– I DO NOT NEED FALSE FRIENDS
– I LOVE MYSELF MORE THAN ANYONE ELSE
The examples of this kind of affirmation are endless and almost anyone will believe that this is a positive attitude towards themselves and that it fills us with positive energy. But that is not the case. Because every thought that has a non-positive attitude, no matter to whom it is directed, is negative and any such thought will leave a trace on the person who thinks it.
What is the true message of the affirmation "I WILL NO LONGER ALLOW THE PEOPLE WHO ARE WORSE THAN ME TO BE AN OBSTACLE"? The message is that I am determined to confront the people who are worse than me. It also contains the opinion that other people are worse than me. Both are negative. Confrontation as an attitude always results in a confrontation from the other party (two things that are the same will attract one another), the thought that others are inferior is an expression of a negative experience regarding other people. After such allegedly positive growth, we are left with a deep sense of resistance towards other people, and with the need to fight and have a negative outlook towards the environment.
However, people experience relief from such affirmations, they feel a burst of energy, a flurry of security and believe that this is a positive step in empowering themselves. Why is that? Because of the paradox that negative thoughts lead us into believing that they are good for us. Because the expression of negative attitudes toward others "feed" our already accumulated negativity, we add a portion of the negative energy to our unconscious negative beliefs, and in return we get the message that we feel good. Yeah, someone feels good, and the only question is: who is that person inside ourselves that feels enjoyment after each portion of negative thoughts that we direct to our surroundings, and who remains empty-handed?
When we want to get rid of the negative thoughts, we should be aware, as much as we can, to address our affirmations and the energy they give us. In order to make ourselves stronger, we don't need to compare ourselves with others, on the contrary, it is best that every message that we send to ourselves, we don't send to anyone else.
Instead of "I WILL NO LONGER ALLOW THE PEOPLE WHO ARE WORSE THAN ME TO BE AN OBSTACLE," the positive affirmation should be "I FEEL FREE AND UNINHIBITED."
Instead of "THOSE WHO DON'T LIKE IT CAN LEAVE MY LIFE," we can say, "THE NEW PEOPLE IN MY LIFE WHO ACCEPT ME, ARE ALSO ACCEPTED BY BE."
Instead of "I DO NOT NEED FALSE FRIENDS," say "I ONLY HAVE FRIENDS THAT ARE SINCERE."
Instead of "I LOVE MYSELF MORE THAN ANYONE ELSE," tell the world "I LOVE MYSELF AND LET OTHER PEOPLE LOVE THEMSELVES."