A couple of weeks ago I received a call from a friend and music producer who had done a remix for my track, "Hold Me Loosely."  He goes by the name, "DJ Lithium."  Him and my mother used to work together when she was still active in the music business.  He told me that his friend was producing a documentary called, "Land Mind,"and that he needed more music for the soundtrack.  DJ Lithium said he was already using two tracks of my mother's, one of which was a collaboration between him and her.  Needless to say, I was very excited to be a part of a project where both me and my mother's names would be in the credits.
I was put in contact with Jesse David Harris, the producer of the documentary.  He explained to me what he needed, and I set off to work.  I created to tracks for the film, one called, Wendy's Shadow.  Thanks to a reader who sent me a link to a special program called Audacity, I was able to take both of these tracks and alter the pitch so that "A" would be at 432hz, rather than the concert standard, 440hz.  Here are the tracks – let me know if you can feel it in your hearts!  http://soundcloud.com/shepatch/wendys-shadow
I'm not the best at explaining this, so I apologize, but I'm going to do my best.  Every instrument is tuned to the concert standard pitch, which means the note, "A" has a frequency of 440hz.  Ho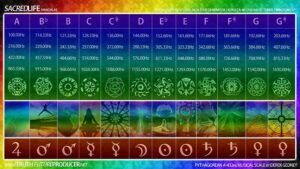 wever, it is apparent that this wasn't always the standard.  The standard used to be a432hz.  This frequency vibrates on the principles of the golden mean PHI ~ many people describe the same melody played with 440hz to resonate more in the mind whereas 432hz resonates more in the heart. This is a very interesting topic and there is a great deal about it online. http://www.solfeggiotones.com/432-hz/
Jesse David Harris ended up loving the tracks with this frequency and now calls me his "music faerie" – which I love!  With his permission, here is "Land Mind by Paula Hayes."  It is a documentary that shows Paula Hayes' inspiration and process in creating the world's largest terrarium.
Enjoy!
Love and gratitude,
Vanessa Cuccia
(ShePatch)