As a former teacher who spent 7 years in the system, one of the things that really bugs me about today's schools is the undercurrent of fear and control-based social conditioning that they subject our children to.  Yes, our children do learn valuable skills and information, but often at the cost of their overall health and prosperity.  Our schools, while they do indeed try, ultimately fail to fully harness the power of today's young minds because they emphasize routine, discipline and testing over exploration, compassion and innovation.
Another problem today in education is that we simply aren't teaching kids what they really need to know to be successful in life.  While it is important to  learn basic math, science, and reading to survive in today's world, it is also important to teach kids how to thrive.
With some slight adjustments, we could quickly start to improve education by adding a few new subjects aimed at helping kids become healthy and successful adults.  By teaching students information that will truly benefit them, we could start to transform education (and the world!) in a positive way.
 1. Schools Should Teach Meditation: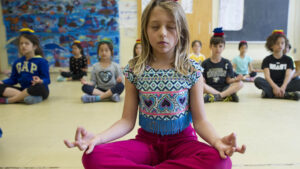 Meditation is a fantastic practice that many people do not have any instruction on whatsoever.  Meditation clears out the clutter of anxious thoughts, helps people focus, and increases mental (and physical) health.  The positive effects of meditation are well-documented. Continue reading →