Endorphins are brain chemicals that boost your mood, health, and well-being.
Check out this article to learn why they are important, and how they make you feel: How to Stimulate Your Endorphins – The Body's Natural Opiates

Here are five simple ways to stimulate the release of endorphins.
1. Boost Endorphins with Exercise
A good workout can make you feel euphoric and energized. It can give you a positive outlook on life. This is mostly because of endorphin release.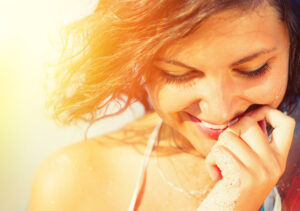 Regular Exercise is the most well-known way to stimulate the release of endorphins.
The study "Endorphins and exercise" says that:
"Elevated serum beta-endorphin concentrations induced by exercise have been linked to several psychological and physiological changes, including mood state changes and 'exercise-induced euphoria". [1]
Endorphins make exercise more doable by relieving pain and rewarding you with a good feeling that makes you want to repeat the behavior.
Exercise keeps your body and mind young and feeling good. We also know that exercise promotes growth of new brain cells, especially in the hippocampus; the area responsible for emotions, memory and the autonomous nervous system.