Recognition and Temporary Spiritual Awakening
Both twins recognize one another at the soul level and feel as if they have met before. Synchronous events surround the union, the heart chakra open and both souls quickly merge into a third unified energy. Both twins experience an acceleration of spiritual understanding.
The Purpose of the Recognition Stage & Temporary Awakenings Stage: To activate the memory of each soul's life mission and to help awaken each twin to higher levels of consciousness.
Testing
The initial temporary spiritual awakening (illumination) fades. The ego (little self) begins to reemerge. One or both twins may attempt to fit the relationship into the "old model" of love, couple hood and relationship as it relates to their ego desires and learned false beliefs. Inner conflict arises.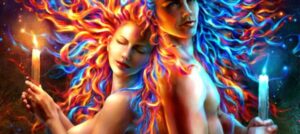 Twins ruminate on what they were taught to believe their beloved "should be" and how relationships are supposed to serve them. Both twins feel simultaneously inspired and toppled by power of the union. Doubts creep in, making one or both twins begin to view their beloved critically or suspiciously.
The Purpose of the Testing Stage: To cause outdated mental concepts about relationships to rise to the surface to be cleared.
Crisis
The crisis of the twin is realizing they must either reject egoic beliefs about love relationships or reject their beloved. Having to shed "little self" or identity based beliefs and desires to embrace a higher expression of love can lead to stubbornness and anxiety.
Continue reading →