Original Article Source: Collective Evolution
The US government has finally admitted they've overdosed Americans on fluoride and, for the first time since 1962, is lowering their recommended level of fluoride in drinking water.
The CDC reports that around 40% percent of Americans have dental fluorosis, a condition referring to changes in the appearance of tooth enamel — from chalky-looking lines and splotches to dark staining and pitting — caused by long-term ingestion of fluoride during the time teeth are forming.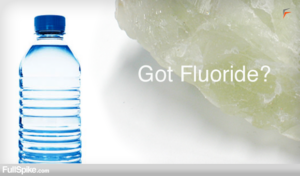 The optimal fluoride level in drinking water to prevent tooth decay should be 0.7 milligrams of fluoride per liter of water (mg/L), the U.S. Department of Health and Human Services (HHS) announced Monday, down from a accepted previous fluoride level of 0.7 to 1.2  of water mg/L.
The HHS has stated that the newly recommended change is because "Americans now have access to more sources of fluoride, including toothpaste and mouth rinses, than they did when municipal officials first began adding the mineral to water supplies across the United States."
Federal health officials say the new recommended level will maintain the protective benefits of water fluoridation and reduce the occurrence of dental fluorosis. Continue reading →