Across human history a multitude of different cultures have used teas and crushed fruits (which we now call smoothies) for therapeutic reasons, from Greek philosophers to Chinese emperors. Science has now proven the validity of ancient claims that these drinks have a positive impact on your mental health.
With so many pressures that face each and every one of us in the modern world, the state of our mental health has never been under such scrutiny. The pressures we face and our own awareness of our mental health can cause us all anxiety. This list is designed to help you find the best teas and smoothies to help manage your stress levels.
Ashwagandha Tea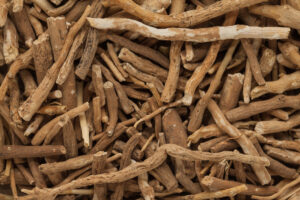 Ashwagandha is an Indian herb that has been used throughout the centuries and literally means 'smell of horse' as it was once thought to give the drinker the strength of a horse.
Although this has been disproven, science has now shown that ashwagandha tea is an adaptogen – meaning a compound that prevents the physical and chemical effects of stress.
You can drink ashwagandha tea several times a day and it is well known for its earthy taste. It takes between 5-10 minutes to brew and should be covered during brewing for best results.
Alongside its ability to help with anxiety, Ashwagandha is also shown to help improve memory and lower cholesterol.
Lemon Balm Tea
Where ashwagandha tea is effective at preventing the buildup of stress and anxiety lemon balm tea is the perfect antidote when you're already stressed.
Lemon balm is a sedative and has been proven to induce calmness in people who are struggling with stress – something we can all relate to!
Lemon balm tea can be bought in tea bags and is brewed in the same way as a regular cup of tea. Its taste is mild and it has a beautifully fresh fragrance that will begin relaxing you the second you smell it.
Blue Lavender Bliss
Best known for its smell, lavender is a proven anti-anxiety plant with high levels of linalool – a compound that lowers stress levels. Alongside lavender the Blue Lavender ingredient list includes a quarter of an avocado. Avocados are particularly high in vitamin B, which assists with healthy nerve and brain cells.
This smoothie has very clear mental and physical health benefits, and the heartiness of the oats makes this a filling drink. So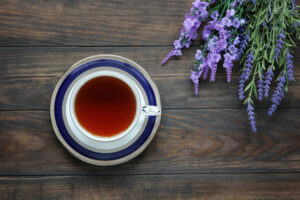 relax and drink up the taste, smell and benefits of lavender.
Ingredients:
1/4 avocado – pitted

1 oz blueberries

1/2 tsp lavender

1/2 tsp maqui berry powder

1/4 cup gluten free oats

1 cup water

1 cup ice
Pineapple Kiwi Kalm
One of the first myths we are taught growing up is that a glass of milk before bed is good thing. With dairy foods high calorie count and inflammatory properties it certainly isn't a good drink before bed, but what is good before bed is the calcium milk contains. Instead of taking on additional calories try the Pineapple Kiwi Kalm, which is a much better pre-sleep drink.
The kale in this smoothie ensures that you will get your maximum calcium absorption. Additionally, the zinc in cashews has been proven to lower rates of depression in both animal and human case studies. With such a mix of vitamins and minerals this smoothie will put a pep in your step in the morning and have you sleeping like a log at night.
Ingredients:
1 1/2 oz baby kale
4 oz pineapple

1 kiwi – peeled

1/2 tsp matcha powder

1/4 cup raw cashews

1 cup water

1 cup ice
Dark Chocolate Delight
The most decadent entry on this list, the Dark Chocolate Delight is a delicious way to dispel anxiety. Using cacao (the raw form of chocolate) this smoothie will pack your body with endorphins and serotonin to give you the feel good factor you need to remove any stress and anxiety. The walnuts balance the drink with heart-healthy fats.
Despite appearing on the surface to be the most unhealthy of the drinks on this list, it contains a large number of your necessary vitamins and minerals. It is the ultimate treat for those times when stress and anxiety weigh most heavily on your mind.
Ingredients:
1 1/2 oz baby spinach

1 banana – peeled

1 apple – chopped

2 tbsp cacao nibs

1/4 cup walnuts

1 cup vanilla almond milk

1 cup ice
Written by: The Hearty Soul
Sources: