An amazing new and simple DIY air conditioner has swept across many villages in Bangladesh. Because of the threat of flooding, a staggering 70% of the population lives in tin huts.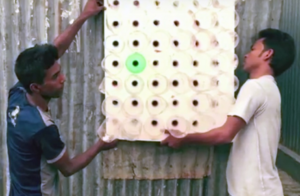 Most of these aren't hooked up to electricity or water, so in the summer you can imagine how unbelievably hot they can get.
It gets so bad, a project called eco-cooler has formed because of the impact. Their mission is to spread the knowledge of how to make these cheap and electricity free methods to cool down the houses throughout Bangladesh.
Originally starting from the advertising agency Grey Dhaka and Grameen Intel Social Business Ltd, their collaboration has created something beautiful. All you need are a few plastic bottles and a board to make this simple cooler.
It works by cutting the bottles in half and mounting them on a grid through bottleneck size holes. You then place the board over window with the bottleneck facing inwards, and that is it! It's really that simple.
That is all you need to actually cool a house, how crazy is that? As the wind blows through the bottles, it creates cool air which gets funneled through the openings and into the house. Eco-cooler says this technique can actually decrease the temperature in the house but up to 5°C, depending on the weather conditions as well.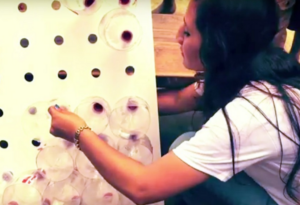 You might think that the air blowing through the bottles would still be hot, but try blowing on your hand. The air feels cooler than the air around it, right? It is the same concept. The air get cooled when focused through the bottleneck.
The other amazing aspect of this creation is that recycles plastic bottles. The project has been put online for free with instructions on how to make it yourself.
This amazing initiative has already reached nearly 25,000 households and villages across Nilphamari, Daulatdia, Paturia, Modonhati, and Khaleya.
After you know how to make it, it's super simple to make a bunch and help thousand who are suffering in the intense summer sun. It is incredibly cheap, and if you can get the materials already recycled then it is virtually free to create!