Ehwaz and Algiz
Time to get on that horse, and bring along your shield. Today you are a knight in shining armor, ready to take on whatever dangers might be waiting. This auspicious reading is a special gift of strength and courage and will certainly help you through your day, and it ties in very closely with Tuesday's reading, which had Algiz reversed, signaling caution. Today you are protected, and it is time to be bold. Let's begin.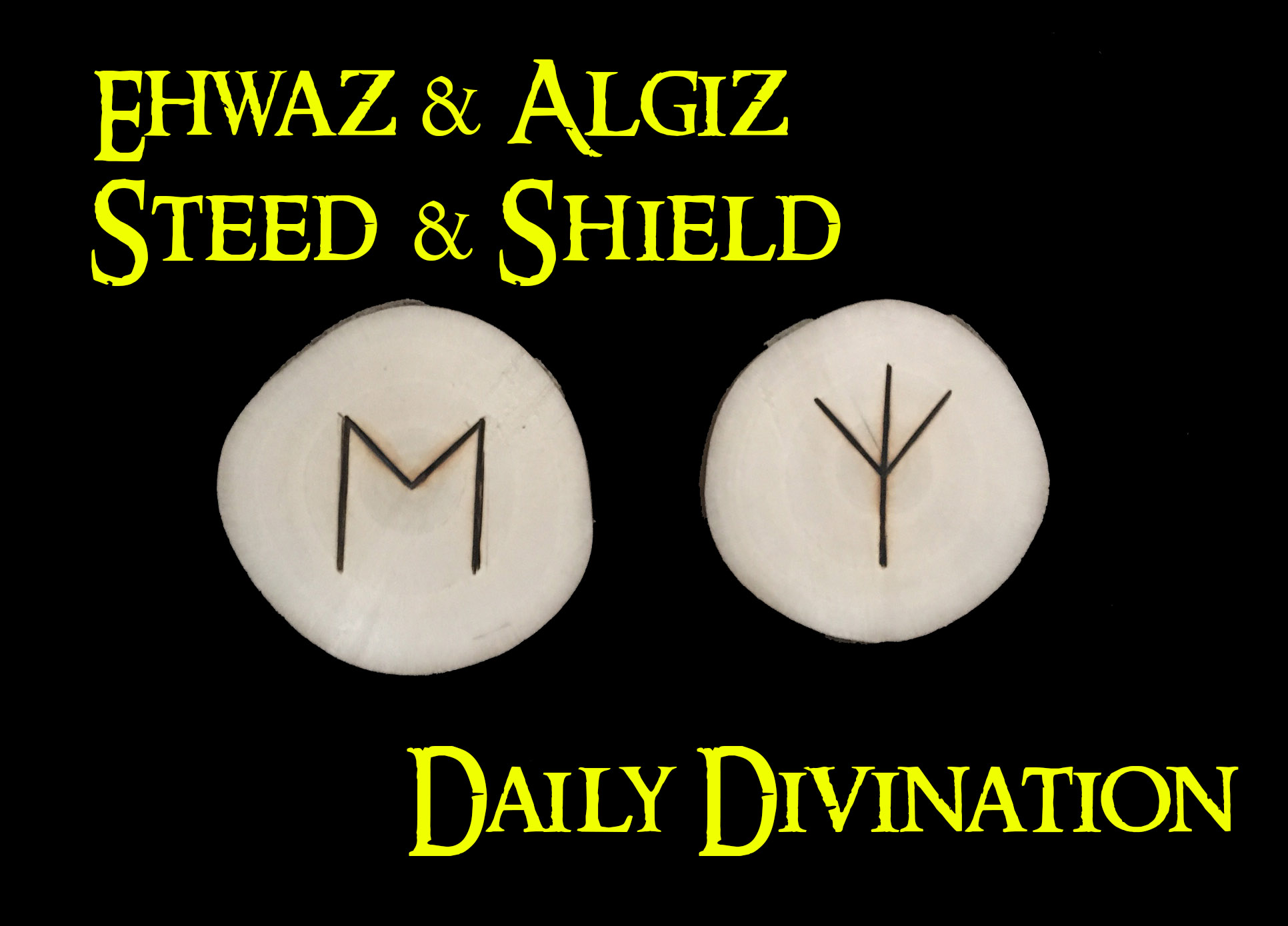 Ehwaz is horse rune. It represents the steed that carried our ancestors through difficult times. The horse is not only a diligent worker but a trusted ally. People have relied on horses for millennia for accomplishing travel, work on the homestead, and even in battle. Like an old friend, people form loving relationships with their horses as they live and work together year after year.
The appearance of Ehwaz beckons the reader to consider partnerships in work endeavors, as committed partners are sometimes exactly what we need to get through especially difficult times. We rely on others and we allow them to rely on us, knowing that we will all struggle occasionally.
Algiz is the rune of protection, making it the most powerful rune for defense. It provides the receiver with a protective barrier that wards off attackers, making it a strong tool for maintaining safety in your home or on your person. The symbol itself resembles one reaching up towards the heavens, taking refuge and giving thanks to the divine. Algiz can also predict success in a search, quest, or some other enterprise, suggesting that it's time to take on riskier ventures with your personal protection at a high.
Together, we see Algiz acting on Ehwaz, or the shield of protection acting on the steed runes. Both of these have a strong sense of protection, as the partnership we see in the horse rune protects you through lean times. So today, it is important to see yourself as enabled through these things. You have partners that care about you, love you, and work hard to support you in any way they can. You have the protection and the love of the divine, which works constantly to assure your safety, your ascension, and your happiness as well. You have everything you need and you are a force to be reckoned with. Go out today and be everything you are meant to be.
Alistair & Forest